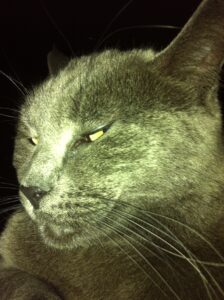 Happy Friday to you! We made it through the week! I wanted to post a quick thought before we go out and experience some awesome arts activities this weekend.
Yesterday I saw an ad with a cat that was hilarious. If it had been about fly fishing, I might not have paid much attention, but if you put a cat in the mix, I am totally there!
There are words, images, names, people, places that we associate ourselves with. I am a cat fan, and a dog fan. Either one placed in an ad will get my attention. You might be a huge fan of a particular football team. The mention of that team will get your attention.
How well do you know your audiences? Do you know what words, images, names, people, places that they associate themselves with? Is there common ground in this area of psychographics?
Knowing these key attention grabbers is pure gold! It can be the difference of programs and promotions that cater to your audiences, getting their attention from the start, or programs and promotions that might flop as much as a fish captured on a fly fishing adventure. Unless you love to fly fish!
The next time your attention is grabbed by marketing, or something in a conversation, make note, and use this knowledge to propel you further towards knowing your audiences and building your audiences!
Cheers to happy and loyal audiences,
Shoshana
Shoshana Fanizza
Chief Audience Builder, Audience Development Specialists
Get to Know Your Audiences Kit for Performing Arts
Get to Know Your Audiences Kit Free Sample
We all know we should get to know our audiences better, but how do we do this? Here is a complete kit to help you learn some of the best ways to get to know your audiences as people, why it is important to do this work, and how to track and use the information that you receive. Knowing your audiences will open new doors of opportunities for you and for them! Once purchased, your link will be available for 10 days.