Last week I had a quick twitter interaction. The topic was about volunteer burnout and what to do to prevent it so you can retain good volunteers. I myself have had volunteer burnout, and I have been on the end of a volunteer management role. This was my response:
Great topic! I have felt burnout in volunteer positions. These factors are typical: underappreciated, being asked too much (not enough volunteers), &perhaps not the right fit for opportunity (doing something they rather not). A program that addresses these concerns helps! #2amt

— Shoshana Fanizza (@AudienceDevSpec) January 27, 2018
In order to prevent volunteer burnout, it would be good to have a program in place that is organized and addresses the main reasons why volunteers burnout:
Not feeling appreciated – Make sure you have several ways to thank your volunteers and to recognize them for all that they do. If they do not get thanked and fall through the cracks, they might burnout and decide not to volunteer the next time around. Appreciating good volunteers makes a huge difference. You can also create incentive programs so they are "paid" for their good work. Free tickets are a good incentive. Having celebration parties and recognition ceremonies are also fun ideas. Sometimes though, a simple, personal thank you does wonders, especially if it comes from the heart.
Not enough volunteers – Volunteers can experience the same phenomena as donors. If you keep asking the same people all the time, they will burnout. Make sure you do have enough volunteers to cover all tasks and be sure to alternate people so no one is volunteering all the time (unless they want to).
Not the right fit – A volunteer may accept an assignment, but if the fit is not right, you will see a very quick burnout and turnover for the volunteer position. When you have an organized volunteer program, you will get to know your volunteers as people, and you will be able to place them in positions that make them and you happy. Find out why they volunteer, what skills they have, and how they wish to volunteer to make the best decisions with them.
Not communicated with – I have been in situations when the volunteer opportunity has not been explained very well or no good communication before the task happens. This leaves volunteers feeling extremely confused, and the experience turns out to be very taxing. Be sure each of your volunteer tasks has a description and how to instructions attached. Communicate with your volunteers to make sure they understand the procedures.
Not checked in with – Especially when you have a longer term volunteer, it is good to check in with them to make sure everything is okay. Perhaps something has changed in their life, and an adjustment needs to happen. Following up with them from time to time shows you care about them, and they will feel happier about volunteering for you.
The bottom line is to have a well organized volunteer program which puts your volunteers at the center. You want to keep your volunteers happy so they don't burnout. Happiness in their positions is their main currency. The happier your volunteers are, the less burnout, and the more word of mouth happens to get more volunteers (which also lessens burnout). It's a win-win to keep your volunteers happy!
Cheers to happy and loyal audiences,
Shoshana
Shoshana Fanizza
Chief Audience Builder, Audience Development Specialists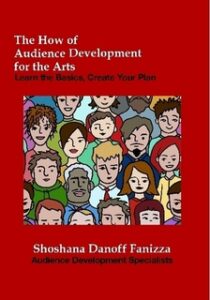 I have a chapter about volunteer management in my book The How of Audience Development for the Arts!
Get Free Mail Or 50% Off Ground
Use Code: SHIPIT2018
Cannot be combined with other offers
Does not apply to ebooks or services
Ends February 1st at 11:59 PM