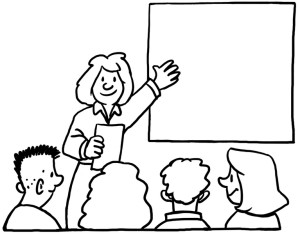 Energizing Workshops!
Let us help energize your group of artists, arts organizations, or board members. Do you need to add more get up and go to your team of people? Would you like to have people shouting out amazing ideas? Our workshops renew your team spirit and get your brain humming!
Seminars
Webinars
Speaking Presentations
Conferences
Arts Administration Classes (Colleges and Universities)
Meetup Groups
We can cater content for you or choose from one of our currently available workshops:
The How of Audience Development for the Arts
In conjunction with the recently published book, The How of Audience Development for the Arts, this workshop gives you the basics. You will finally understand what the buzz word audience development is all about, and you will walk away with concrete ideas for creating your very own audience development plan. Let's all learn how to build our audiences organically and authentically!
Top 20 simple ideas for building loyal audiences
Join us for a reminder of simple, common sense ideas that are not being commonly practiced. Implementing just one of these ideas will help you to build loyal audiences that will support you and keep coming back for more.
This or THIS: Creating content that attracts and engages
An adventure in current content, you will see ideas juxtaposed with the option to vote on which one is more effective. The adventure will take us through branding, copywriting, websites, advertising, social media and more. In the end, the knowledge of how to attract and engage your audiences through your content will be yours.
So you want a younger audience? The nitty gritty of generating generations on a budget
Learning how to build relationships across generations becomes easier when you know the preferences of each generation. Through this workshop, you will look at ideas that are working for building younger audiences while you continue your relationships with your current audiences. One-size might fit all in some cases, and a look at generation crossing points will be highlighted.
Building audiences – What's working!
By going through a journey of case studies, ideas around the world that are working to build audiences, you will discover the hidden gems of audience development and how you can apply these philosophies to your own audience building goals.
What's your favorite color? The broader spectrum of audience analysis
Do you know what your audiences' favorite color is? What do they like to do aside from going to your events? Which month has the most audience member birthdays? Getting to know your audience can open a whole new world of ideas for creating programs that will engage them personally. We will be looking at how to get to know your audiences through creative surveys, focus groups, events and individual conversations. You will then learn how to analyze the results and how to turn this new awareness into golden ideas for a more personal audience engagement approach.
Putting the Social back into Social Media and Websites: How to engage online with your audiences
A look at various social media formats and best website practices and how to use them to build relationships that will last.
Distributing and promoting A/V content for audience building
This presentation was piloted at the National Arts Marketing Project Conference and can be catered specifically for your group. You will learn some of the best places to distribute with suggestions for new technology to use for creating compelling audio/visual content on a budget.
Building Relationships to Build Funding
This workshop is all about how you can gain more monetary support through building relationships. You will learn how to cultivate donors, partner with sponsors, the art of the ask, the ins and outs of crowdfunding, and so much more!
Putting engagement back into Audience Engagement
What is audience engagement?  How can you use audience participation programs for audience development? Are there good examples to use for inspiration?  This presentation answers all of these questions and more.  Learn about audience engagement and the variables to consider for creating a program that is best for you!
Past Workshops Experience
Shoshana has presented audience development seminars and workshops for the City of Boulder's Arts & Culture Summit, the Colorado Creative Industries Summit, Bucks County Choral Society, Boulder County Arts Alliance, Portland Piano International, Pro Musica Colorado Chamber Orchestra, for a University of Denver's Arts Development and Program Management class, and the Tampa-Hillsborough County Public Library System. She has also presented several years at the National Arts Marketing Project Conference put on by the Americans for the Arts.
Contact us for a free consultation to discuss your individual needs.  We will provide a proposal within a week of the consultation!